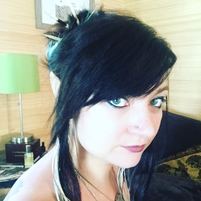 M. Marie DeMars is a Jack of all Trades artist and creator of Odd and Curious Things. Her varied interests have led her down paths of experimentation in Fine Art, Illustration, Dance, Perfumery, and Tyromancy. A self proclaimed life long Geek, her work in largely inspired by her love of Science Fiction, Fantasy and Folklore, and Science. She follows without hesitation any media or subject that sparks her interest. With one solo gallery show and two juried Museum shows under her very spangled belt, Marie is currently re-evaluating all of her life choices, and figuring out what patterns and projects rank highest on the priority list.
Illustration: We prefer not to talk about it. But rates for illustrating your children's book are exceedingly high, just in case you were going to ask. Really, if it's not a conceptual or editorial piece, please just don't ask.
Dance performances are extremely limited. Classes are unavailable. Stay tuned for updates...
Marie can sometimes be seen on weekends dressed like an elf (more LOTR, less Santa's Helper), running through the woods shooting arrows at monsters.
She's also dabbling in ailuromancy, meconomancy, and oinomancy.
Available for parties and bar mitzvahs.
---